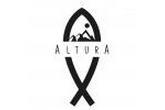 Altura is a start-up born in 2019 from the idea of ​​Lorenzo and Edoardo, lovers of the mountains and good food. Their goal is to make smoked trout known and usable, a forgotten gastronomic excellence, re-educating the market for the consumption of Italian and above all Alpine freshwater fish.
Their passions were a good starting point, but at a certain point the need to answer a question arose in them: "The world of fish is vast and often confusing. Everyone knows that fish is good for you, but are we sure this applies to all fish?"
They want a more sustainable and high-quality future. Both things that it is now obvious that current intensive fishing technologies can no longer guarantee. The long production chains have led us to detach ourselves too much from our responsibility towards the environment around us, and Lorenzo and Edoardo wanted to make a more responsible choice.
From this consideration comes the project to create a network that unites the most virtuous breeders of the Alps of Valle d'Aosta and Piedmont. Small low-density farms that coexist with the surrounding environment and respect the trout, leaving it space and time to grow with a natural diet and without the use of antibiotics.
---
Attachments
---
Company figures
---
Characteristics
INNOVATION
YOUTH COMPANY
SUSTAINABILITY
---
Photogallery
---
Address
Via Duca d'Aosta , 56
11029 Verrès (Aosta)
View on map
---