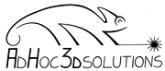 At Ad Hoc 3D Solutions we specialise in providing services connected to geomatics (geospatial technology or geomatics engineering), where we develop and provide customised solutions for acquiring, managing, and sharing 3-D information. The company comprises a group of highly qualified people, and we also do a lot of research and development. We have been awarded several Italian and international prizes for the work we have done on the world market.
At Ad Hoc 3D Solutions we also customise hardware and software platforms according to the needs of the end user.
We provide the following goods and services:
Traditional data gathering (topography, GPS, levelling)
3-D data gathering with laser scanner technology
3-D photomapping of ground and using SAPR (drones)
3-D data processing (via laser scanner and photomapping) using the latest technology
Monitoring
Producing architectural blueprints and summaries
Creating totems or visual structures for dissemination using 3-D models
Creating applications for tablets or 3-D model management
Developing algorithms and special solutions upon request
3-D modelling
3-D printing
Mapmaking and GIS
Ad Hoc 3D Solutions S.r.l. is an extremely specialised company set up by a group of postdoctoral researchers in the field of Geomatics, Design, and Data Gathering at Turin Polytechnic and Milan. We also have a team of researchers and developers who have been working since 2000 with Italian and international University research departments and with R&D Departments at some of the world's most important laser scanner makers. In 2014 we took over SIR S.r.l., a spin off from the Turin Polytechnic, Italian leaders in geospatial engineering.
---
Company figures
---
Characteristics
---
Photogallery
---
Address
Fraz. La Roche, 8
11020 Gressan (AO)
View on map
---